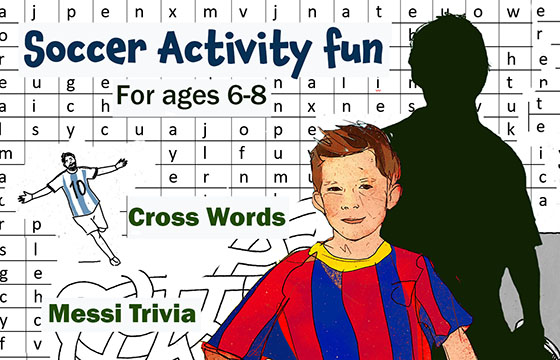 Score big with this fun Soccer Activity Book. Perfect for young soccer enthusiasts in general, European soccer in particular, and especially Lionel Messi, this book is packed with fun challenges that will keep kids engaged and entertained and provide educational value.
From solving soccer themed mazes to testing their knowledge of soccer legend Lionel Messi, kids will have a blast exploring the world of soccer. They'll search for hidden soccer words, solve crossword puzzles and much more.
The activity book is inspired by the book series "Sean Wants to Be Messi".
Fun activities include:
• Messi Trivia
• 3 Word Searches
• 7 Mazes
• 3 Crosswords
• 4 Spot the Differences
41 pages, answers included.
Download Soccer Activity Fun.
Or buy it as a book on Amazon.