Choosing a vacation destination with a teenager is no easy task by itself, but when you add "soccer-playing" to that teen, it becomes almost impossible. In spite of all the difficulties, we managed to enjoy an unforgettable family beach vacation in Sharm El Sheikh, Egypt.
Our teen soccer player insisted on staying somewhere with a gym so he could do his daily workouts, and in a place with plenty of healthy food so he would be able to stick to his nutrition regimen and not lose muscle mass.
On top of that, he wanted to vacation as a professional soccer player—meaning, in the style and in the places that famous soccer players take their vacations.
After many arguments (we cannot afford a villa with a private yacht on the French or the Spanish Riviera), we agreed to go to an all-inclusive five-star hotel in Egypt's famous holiday destination of Sharm El Sheikh.
Because the only time my youth soccer player can take a vacation is between seasons—in June—that's when we flew to Egypt. And it was a perfect choice because Sinai, the peninsula on the Red Sea where Sharm is located, gets horribly hot in July and August. The end of June was just right.
Sharm El-Sheikh in June
Sharm El-Sheikh is a desert resort city on the beach of the Red Sea. It's a busy vacation destination for tourists from all over the world, so it offers a range of accommodation options and many attractions and activities, but because it's in Egypt, prices are affordable .
The area is considered one of the best diving and snorkeling destinations in the world on account of the clear water, coral reefs, and abundance and variety of marine life.
In fact, it is such a popular destination that I can see how it could usually be too busy for my taste. Russians and Ukrainians love Sharm El-Sheikh. They arrive in such large numbers that the second language in Sharm is Russian, not English. We were surprised to see Russian notices everywhere and meet tourist guides who spoke fluent Russian and Italian.
It just so happened that we did not suffer from the crowds because at the time of our visit, the horrific and unjustified war in Ukraine had been going strong, and so the tourists from both countries were absent. The few tourists we met were mainly from Turkey, Italy, and Israel.
There are plenty of hotels right on the beach to choose from. After a bit of Googling, I chose the Regency Plaza, , and we were not disappointed. The food was good to decent, the air conditioning worked, and the beach was a minute walk from our room, with reclining beds in the shade, camels for hire, a jetty for swimming and snorkeling, and boats for private rental.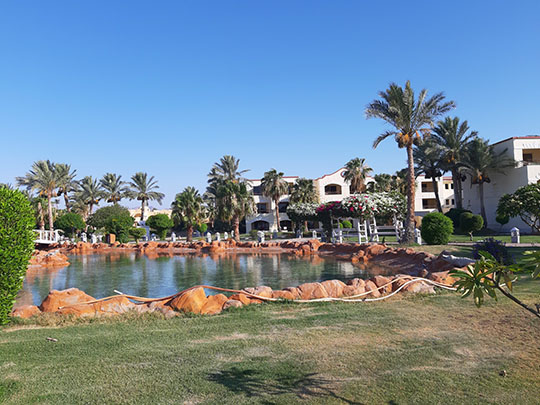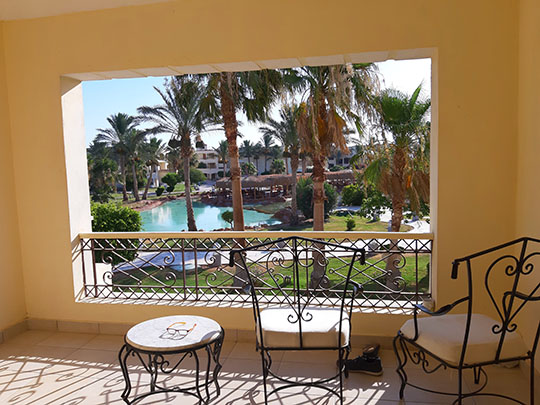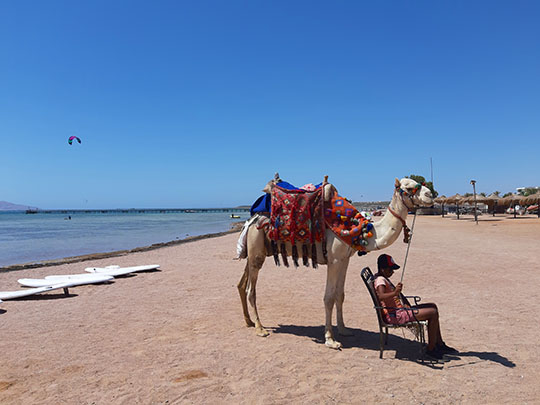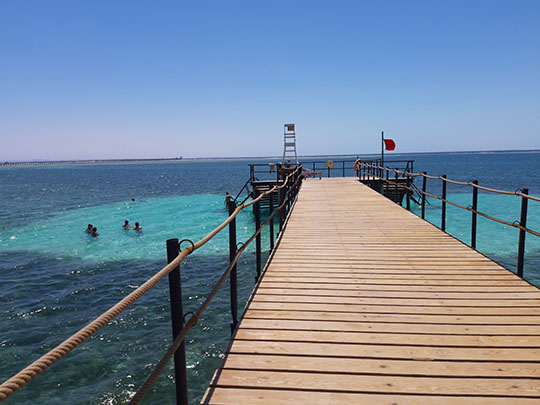 Buggy Ride in the Sinai Desert
Local travel agents arrive at the hotels and offer tickets to the various attractions. I guess it's customary to haggle a bit about the price, but we did not. The prices were very cheap compared to the same activities in Western countries, and haggling is not my forte.
It is also customary to tip, and I do recommend tipping the service people in the hotels and tours because the Egyptian Pound is very weak and a tip of even a few dollars can mean a lot to the local residents. Besides, you will get better service.
We booked three tickets for a buggy ride in the desert, which we enjoyed very much. It was beautiful and exhilarating to roam in a rowdy convoy through the gorges of the desert mountains by sunset, "Mad Max" style. There was enough adrenaline to keep our teen son happy, and it was safe enough to keep us, the parents, calm.
The mandatory Bedouin keffiyeh scarf, with which we covered our faces against the dust, added a layer of authenticity to the photos and Insta stories.
The ride included a stop for local sweet and strong tea in the tents of the Bedouins, a proud and hospitable people who have lived as nomads in this region for centuries, existing in tough conditions in the middle of the desert. It was a humbling experience.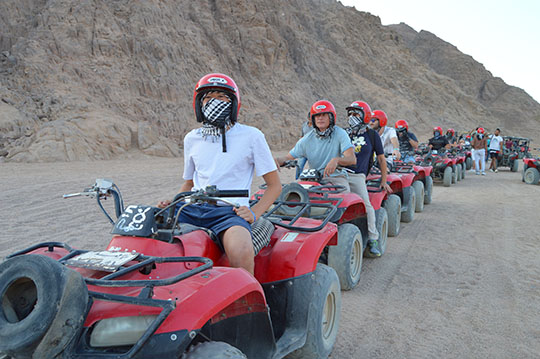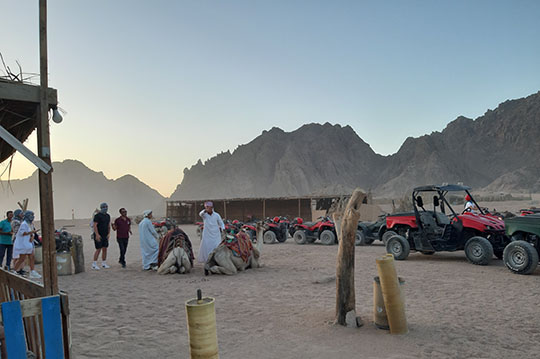 Boat Ride Day Tour to Ras Mohamed National Park
A minibus picked us from the hotel and brought us to the hustle and bustle at the Sharm El-Sheikh port, where we boarded a large yacht and sailed along the magnificent beaches of the Red Sea. The Red Sea gets its name from the reddish-crimson color of the mountains around it. The water itself is crystal-clear and teeming with life. We stopped for snorkeling and enjoyed it very much.
The reputation of the area as a prime site to watch marine life is well deserved. We saw so many colorful fish on that trip and while snorkeling on the beach near our hotel. To name a few: catfish, lionfish, angelfish, butterflyfish, cardinalfish, goatfish, and swordfish.